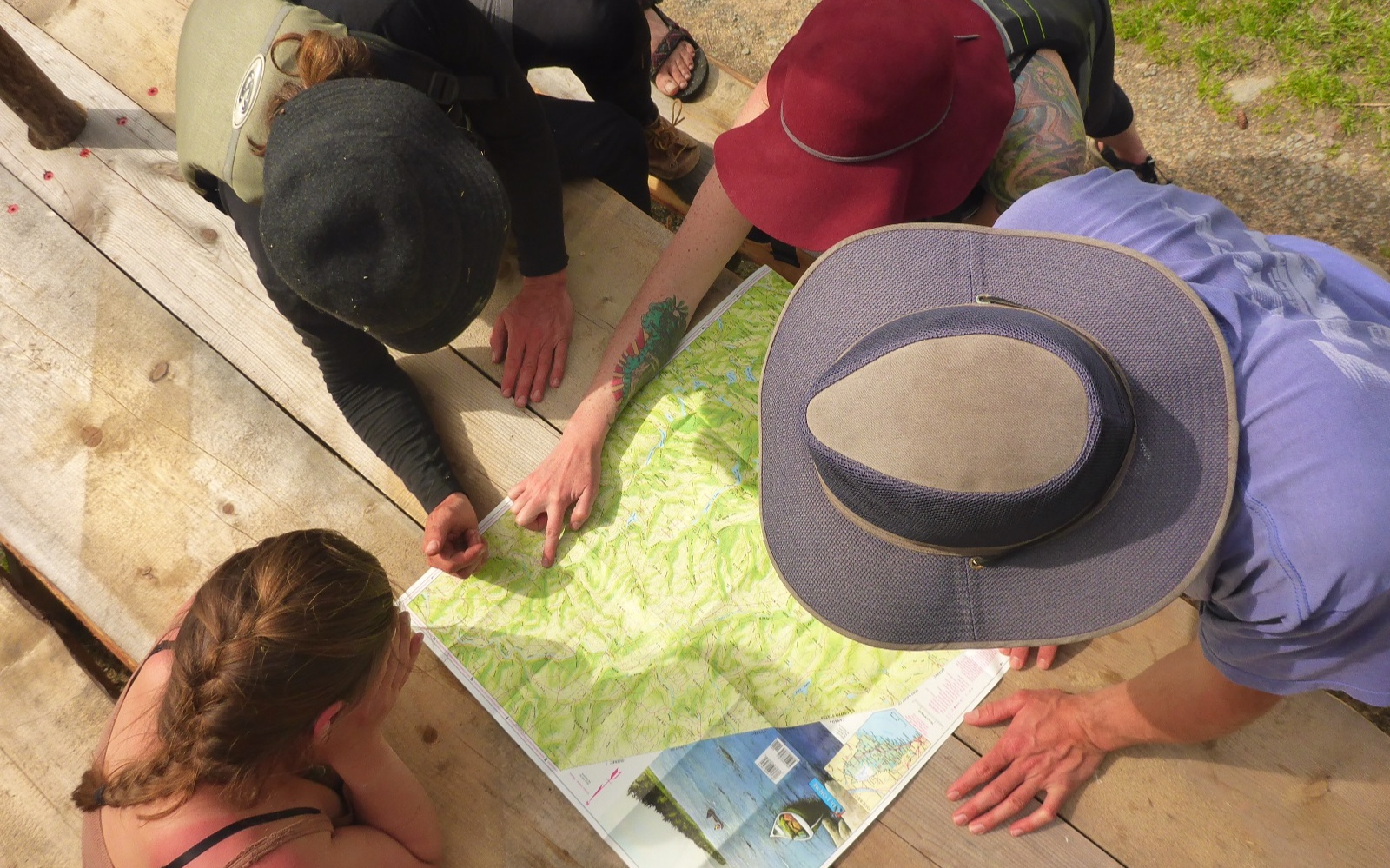 For businesses and organizations near our home base in Portland, Maine we offer local retreats that combine nature immersion benefits with the opportunity to rest, reflect, converse, and connect. With these half-day retreats we aim to support the personal well-being and professional resilience of participants in ways that lead to an organizational culture of compassion and impact.
Thanks to the generosity of our program Partners & Sponsors we have subsidies available via our Renewal for a Caring Community fund. Don't hesitate to contact us to discuss!
We are wilderness guides. But we do more than guide people through the wilderness.
Partner with us to support your employees and strengthen their work with a custom half-wild retreat where your group meets our guide for a morning or afternoon of movement, reflection, and inspiration in a nearby neighborhood wild space.
We will consult to discuss the needs of your group and the best date, time, and location for your retreat.

We will compose a program proposal for you to review.

We will send information to share with participants to build enthusiasm and ensure that everyone knows what to expect.

We will guide your encounter with times of movement, rest, conversation, and reflection.

We will invite feedback from you and your group.
What to expect on Half-Wild Retreat
spending time in silence, including the practice of turning off devices if possible

hiking at a gentle pace on terrain that is sometimes rugged with roots, mud, and inclines (we will choose location that best accommodates abilities of your group)

sitting on the ground or on a log (or a camp seat if needed) for guided meditation

availability of snacks and encouragement

opportunity to share insights and reflections

we will plan to meet in light precipitation, but will reschedule in the case of more severe inclement weather
Sample locations
What to bring
sturdy walking shoes

dress in appropriate layers to adjust for temperature/weather

full water bottle

sun protection as needed (sunscreen, hat, glasses)

personal emergency medications (e.g. albuterol, epinephrine)

signed RITW release form
Program aims
Increase levels of personal well-being and resilience

Decrease levels of burnout for participants

Increase organizational cohesion and collaboration

Increase professional sustainability

Decrease employee turnover

Increase positive relationship to vocation

Contribute to more interdependent and resilient organizations

Contribute to healthier communities

Increase knowledge and perception of wild nature as resource for sustenance

Advance norms of compassion toward self, others, and earth
Testimonials
"Our team had a wonderful experience with Renewal in the Wilderness. [They] worked closely with us in order to understand our specific context and needs as providers within the mental health system, and they then incorporated this information into a very personalized and meaningful outing. We not only had a chance to spend valuable time together outside of the office, but we were provided with structured and supportive opportunities to reflect and rejuvenate. Our time in the woods with Renewal in the Wilderness was infinitely more beneficial than many of the textbook trainings we have participated in regarding burnout and resiliency. We highly recommend Renewal in the Wilderness to any healthcare providers looking to reconnect to purpose and revitalize within the demands of an ever-changing, often-exhausting field of work. We're very grateful for the opportunity!" — Meghann, Maine Behavioral Healthcare

"As a health care professional who owns a small independent outpatient physical therapy practice, my employees and I are on the front line of care giving. We are in the trenches everyday battling for and alongside our patients as they face pain, depression, anxiety, loss of function and disability. We do this with a passion and commitment I am very proud of. However, both for myself and in my role as an employer, I recognize the need to come up for air sometimes. Renewal in the Wilderness was the conduit to breathe that fresh air. Renewal in the Wilderness helped to plan, organize and deliver times of rest, peace, solitude, reflection and togetherness for my team and I. The result was a renewal of togetherness as a team and energy to return to the trenches which increased staff satisfaction, engagement and productivity. As an employer, it solidified my belief that creating space and avenues for such experiences is of utmost importance. A massive thank you to Aram and Renewal in the Wilderness for their skill and knowledge in guiding us to the fresh air and moments of reflection." — Phil, Alliance Physical Therapy